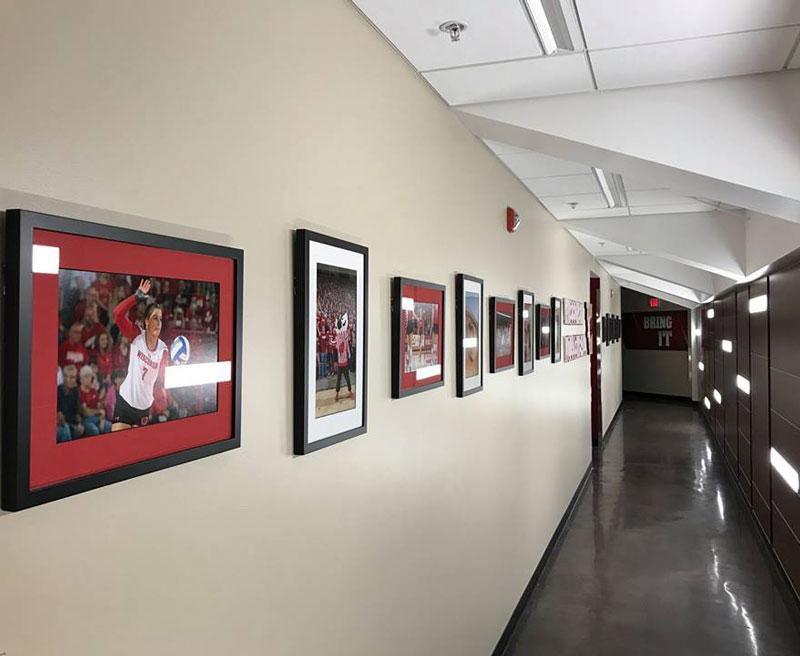 Corporate Services
Present your company's best look with quality artwork and framing. The right pieces convey a personality that can attract and engage with your clientele and inspire your employees. Monroe Street Framing has experts on staff who can help you select artwork. We work with photographers, art consultants, printing firms, and local sources like the Wisconsin Historical Society to find just the works you need to make a statement and can coordinate with your interior design firm.
All commercial framing is done by the same professionals who complete our museum, gallery and residential work. This ensures every piece in your corporation's collection is handled with a high level of care and craftsmanship not typically found in production framing facilities. You can see our framing work in the Chazen Museum, EPIC, University of Wisconsin-Madison, Duluth Trading Company, J.H. Findorff & Son, JP Cullen, and the Wisconsin Historical Society . We also work with interior designers and architects.
We offer pick-up and delivery services to ensure your art arrives safely. Our professional installation team provides a full range of techniques, including security mounting and specialized hanging systems.
Choose from our full selection of commercial services:
On-site consultation
Sourcing and curation of artwork
Framing
Delivery
Shipping
Installation
We offer competitive commercial rates for quantity purchases and would be happy to submit a bid for your next project. For more information or to set up an on-site consultation, email Michelle Waldeck.
"The Center for Railroad Photography & Art has partnered with Monroe Street Framing for nearly twenty years in the production of our traveling photography exhibitions. As a small arts nonprofit, we rely heavily on local partners in our mission to present high-quality art to the public.
"With Michelle at the helm, the staff at Monroe Street has consistently provided us with fast service and exceptional matting and framing for our prints. The relaxed yet professional atmosphere at the shop allows for easy conversation with the framers to produce our ideal results. Regardless of their schedule, they always keep their doors open for a quick question or a sudden rush job.
"In 2018-2019 we worked with Monroe to produce an exhibition with more than 100 framed pieces that would be segmented and sent to two venues at opposite ends of the country. They worked diligently, made us a priority, and maintained high levels of organization to ensure that every single print was accounted for and shipped to its correct destination, even catching a mistake by the printer in the process.
"From small- to large-format prints in more than twenty exhibitions, Monroe Street Framing has remained our loyal friend and trusted partner for nearly two decades. We could not imagine working with anyone else."
Hailey Paige & Scott Lothes
Center for Railroad Photography & Art